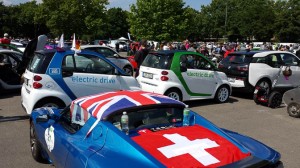 What a day!
After a good sleep at the hotel we were up early and made our way to the Daimler Museum where we were taking part in a world record of the most electric vehicles in a convoy. We were hoping for over 400 but it turned out to be over 500! It was a fantastic experience to be amonng so many electric cars, bikes, buses. All moving around with nothing more than a whisper. The whole event was awe-inspiring.
We got the record and unofficially it was 507 vehicles.
After we all lined up to make the shape of a heart with the words "Electric car World record Stuttgard 2014". This was filmed from a drone from high up. We will try to get the video for you later.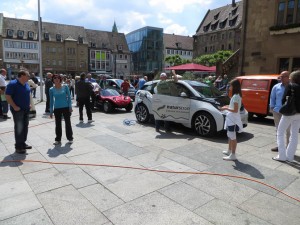 Then a 58km drive to the beautiful town of Heilbronn where we were welcomed to the town square. Charging was available and we plugged in while we were given a guided tour of the town. This town was totally destroyed in the war and has been completely rebuilt since. They have done a great job of maintaining its character.
Next we drove on to Wolpertshausen where we are staying the night. We have been welcomed by the town mayor and the head of the farmers cooporative who was hosting us for dinner and breakfast.
We would like to thank the towns of Heilbronn and Worpetshausen for making us feel so welcome and for providing us with food for us as well as our cars.
Tomorrow is a little more relaxed with a nice start time of about 8.30 then on to visit some farms where they generate electricity from biomass. There is a range competition too but we won't be pushing the limits too far!
A great day for the first full day of the WAVE.