I am 54 years old, married and living in Saltash, Cornwall, UK.
I was one of the first people in the UK to get a Nissan Leaf in April 2011. Since then I have done over 24,000 miles (38,000km) in the Leaf travelling all over the UK and to Amsterdam and I regularly do trips of 500 – 1000 miles (800-1500km) in a single weekend.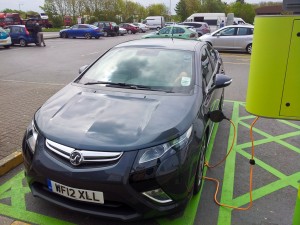 When we bought the Leaf we also had a Land Rover Freelander  but when the Vauxhall Ampera was launched in 2012 we sold the Freelander and bought an Ampera. The Ampera allows us to have 2 electric cars while still being able to do long trips where it would not be sensible or convenient to do in the Leaf.
I want to do all I can to promote the transition to an electric world , reducing our dependence on oil, and electric cars are a major step forward.
Apart from electric vehicles… I am a self-employed computer consultant working from home with my wife Sally. My other interests include photography, watching sport, motor racing, model helicopters, amateur theatre (technical), sailing, aeroplanes and aviation.
You can read more about me and the things I get up to on my blog at:
http://purplemud.co.uk or http://about.me/paulchurchley