Another example how the roadster crew is managing with the space challenge inside the roadster cabin. The electric blue bag  😉 includes the following items:
1 iPad
1 BlackBerry phone
1 Galaxy S3 phone
1 battery pack ( 4 Li-Ion batteries, eg. used for the Canon camera)
1 iPod
1 power bus
1 power charging cable
all item charging cables, bold pens, writing paper, the flag, cards, cash and many more small items used for daily events, driving etc.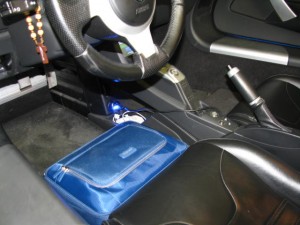 Organizing and optimizing space in the trunk and the cabin is intensifying. There is absolutely no doubt, that team Electric Blue  is mastering all this  😀