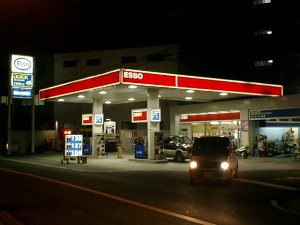 With a petrol car you go to a gas station and fill up. You don't think about how fast the petrol is going into the car because it all happens in a matter of minutes. With an electric car it is more complicated. Charging takes more or less time depending on the type of charging station you are connected to and the capabilities of your car.
Generally speaking, there are 3 terms used to describe the speed of charging… Slow, Fast, Rapid.
These terms are all a bit confusing because there is no official definition. A slow charge to one person is a fast charge to another and a fast charge can also be called a rapid charge! However, these are the most widely accepted meanings but remember that there is some degree of flexibility here and until there is an official definition of the terms then these definitions are as good as any other.
However, you will hear these terms refer to different types and levels of charging and without a standard who is to say that our definition is right or someone else's. All we can do is get a general understanding of what people might mean and get clarification when we need it.
Slow Charging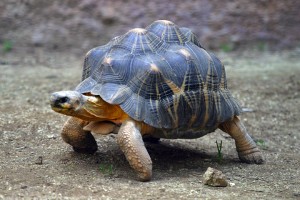 In the UK we have 230-240V mains power and so most electric cars can be charged using a standard 13A domestic socket. Many cars come with an charging cable cable to do just that and they will charge the car through that domestic 13A socket at various currents under 13A (6A, 10A  etc). The UK Nissan Leaf for example comes with a cable that will charge the car at 10A which will add about 10 miles/hour of charging. So, this is the slowest form of charging in the UK… via a 13A domestic socket and this is SLOW CHARGING.
Many public charging stations also use 13A sockets.
In the USA they have 110V mains and so for them there is an even slower form when charging on 110V and that is also slow charging. Charging at 110V AC is called level 1 and 240V AC is called Level 2. For obvious reasons we do not have Level 1 charging in the UK.
Fast Charging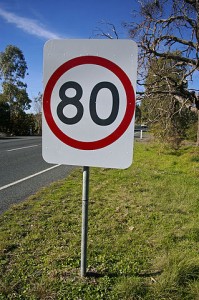 If you are charging from the 240V mains but at a rate higher than a standard domestic socket allows (faster than 13A) then it is Fast Charging. Fast charging requires a dedicated circuit and the correct cables.
Fast charging is generally 240V AC at powers of between 13A and 70A single phase or 3-phase but charging at 63A 3-phase is often considered rapid charging as it is 44KW and that nears the power of a DC rapid charger's 50KW.
The Tesla range can charge at over 16A and the 2013 Nissan Leaf has a 32A single phase charger. The Renault range have 3-phase chargers.
Rapid Charging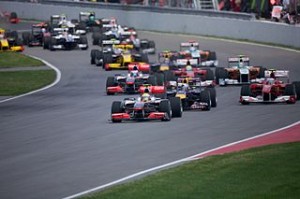 Rapid charging is generally considered to be charging at 44KW or faster.
AC 3-phase at 63A is about 44KW and can put on about 200 miles/hour. Current cars only have a range of about 100 miles and so it will fully charge from flat in 30 mins!
With AC charging the actual charger is on the car but DC charging is different. With DC charging the current is DC, direct current instead of AC, alternating current. DC is how the battery stores the power so it requires a different way of charging. With DC charging the charger is not on the car but in the charge station. The charge station takes the mains AC and converts it into DC before delivering it to the car. DC rapid charging has several standards the most common of which at the moment is CHAdeMO. This is generally at 50KW and charges a Nissan Leaf to 80% full in under 30 minutes.
Rapid charging is really the only sensible way to drive an EV long distances without overnight stops to charge. They are currently going in to all the UK motorway service areas and some popular shopping locations too.
Tesla Supercharger Stations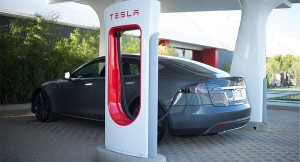 With the advent of long-range EVs and large capacity batteries of Tesla Models Tesla is rolling out their own charging network of "Superchargers". The Tesla concept is to install very rapid, 150kW, charging stations at strategic locations throughout the world. These stations will be for the use of Tesla owners and will be free to use. These very rapid chargers will charge a 300 mile Tesla Model S from to 1/2 full in just 30 minutes!