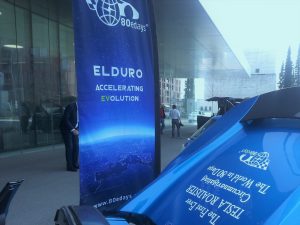 The First Ever Tesla Roadster to Circumnavigate the World in 80 Days.
The WAVE trophy 2017 will be the first event after the remarkable EL-DURO endurance test for 100% electric vehicles has finished in the summer of 2016.
Thanks to Rafael de Mestre for organizing 80edays and giving us the chance to do it together with all 80edays teams in record time of 80 days.
Blue shall transport the story of 80edays throughout the famous WAVE trophy while doing the Grand Tour of Switzerland in 2017.