WOW! The days on the Wave are busy and hectic!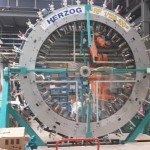 Up early and a drive to Munich for breakfast at the Munich University of Technology where they are doing some great reaserch in many automotive and electric vehicle areas. I went on a tour of the Carbon Composites section where we had a great tour of some of their labs where they are doing reasearch into reducing the cost and manufacturing time for carbon composites, particularly for the second generation of the BMW i3 and i8.
Then on the Schwangau where we charged and had a lovely lunch in the open with views of the start of the Alps and Schwangau castle.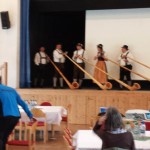 This was followed by a picturesque drive to Sonnenalp for dinner and a wonderful welcome from the local people with a group of alphorn players. Very different and charming.
Then, as a bit of a highlight, Chris Payne, the director of "Who Killed the Electric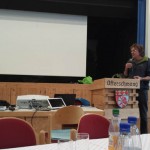 Car" and "Revenge of the Electric Car" joined us and gave a very interesting talk. He flew in from LA today and so we will have more opportunity to meet him tomorrow. What a treat.
Tomorrow it is busy as usual. Up at 6.30, breakfast at the hotel and then a 30km drive to Hittisau, Austria… then to Bregenz to show our cars at an Electric Vehicle conference, then to Friedrichshafen for a tour of the Zeppelin factory… then a ride on the Konstanz ferry… then a special event on Mainau Island. This is norrmally closed to cars but we are being allowed on the island. We will be having dinner on the island before returning to Konstanz for overnight.
Not much driving tomorrow but a very busy day.