The past couple of days has been a challenge as far as the blog is concerned. We have been sharing rooms with up to 8 others and so it has been difficult to keep up with the hectic schedule that is the WAVE 2014! Still, I will try to bring you up to speed.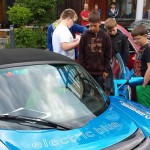 Yesterday morning we were in Wolperthausen and after a very early start we made ouw way to Hittisau to show the cars to school children. I don't know how many but possibly 100+ all swarmed out of a hall and descended on us waiting electric cars. It was quite something seeing and hearing these kids, about 12-16, all climbing in and asking questions. These are the future drivers and if this is anything to go by then they will all buy electric cars… I am sure.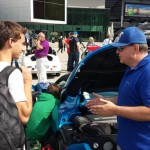 On to Bregenz where we all lined up at an Electrc Mobility conference for the delegates to see.
On to Friedrichshafen to visit the Zeppelin factory. What a treat. We met the current CEO and also Mr Wolfgang von Zeppelin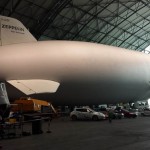 himself. We didn't have time for a flight but if you get the chance then you can have a scenic flight around the area and over Lake Constance.
Then another treat… a ferry to Konstanz. It was a full-sized ferry but we had it to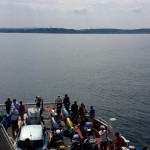 ourselves so it was full of only electric vehicles. It has been done before (Norway) but this is a very rare event.
In Konstanz we went to the harbour where they had publicised our coming and so we showed the cars to the general public.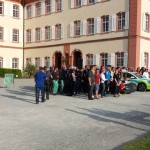 Finally, on to Mainau Island where we were greeted by the Grafin Bettina Bernadotte and then dinner on the Island with another great talk from chris Paine.
——————————
Today has been busy as per normal… Visit 2 schools before 10am then on to a 100MW hydro power station where we had a guided tour and lunch. On then to Baar and then to Eisiedeln for the overnight. We are getting quite tired so we are having an early night.
More tomorrow.